RECENT Livestream Performances, 2020
This was my favorite performance of the year - a solo set on a concert of solo artists from all over the world! It's amazing how we can create so many new ways to come together online.
Next up, Edgefest presented my this year, December 18, 2020 and instead of cancelling the festival altogether, they made an incredible monthly series comprised of their scheduled artists - a brass themed festival this year! My set begins at 28 minutes if you're eager to see shots of the silo with multiphonics!
Clip Mouth Unit
JEN BAKER•DAFNA NAPHTALI
Anne Hege and Jen Baker Collaboration: The Universe is Pulling Apart (2018). Trombone, Voices, Tape Machine, Movement.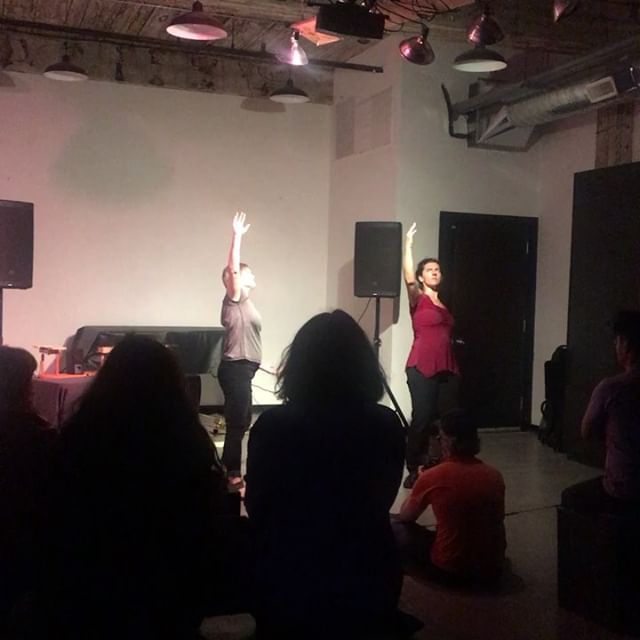 Mikro Trio: Sara Schoenbeck, Stephanie Richards, Jen Baker play improvisations based on Bartok's Mikrokosmos.
COMPOSITIONS
Loadbang plays When a Drop of Light
The Fourth Wall plays Near To Solitude by Jen Baker
My improv albums
Blue Dreams is a collection of solos called Lyrical Vibrations - multiphonic chant.Untitled (1959), is a collection of free improvisations by some incredible free improv folks.

Jen Baker
Blue Dreams
Dilapidated Barns DB001
To begin with the most general descriptions, Jen Baker is a former San Francisco Bay-area trombonist who works in the area of free improvisation. My only previous exposure to her work is Untitled (1959), on Kadima Collective, by a quintet that includes Israeli saxophonist Ariel Shibolet and Bay-area musicians Damon Smith, Aurora Josephson and Scott R. Looney. Its 16 brief improvisations (their titles are taken from the paintings of Mark Rothko, hence the unusual CD title) reveal Baker to be an exceptionally skilful trombonist with keen listening skills, imagination, and technique to burn.
Blue Dreams is something very different, a solo recording that develops a concentrated instrumental meditation on duration and depth, both of pitch and reflection. Baker is listed as performing on both trombone and voice, but she's singing at the same time she's playing trombone. Reaching into the lowest register of the instrument for sustained tones, Baker suggests the long bass trumpets that anchor Tibetan ritual; combining this with multiphonics, she sounds like a choir; with the slide moving, that choir begins to wobble; her voice, from within the trombone, mimics Tuvan throat singing, including the nasal, upper-palate sounds that resemble bowed bells. Put it all together and Baker sounds like a one-woman Central-Asian Buddhist-temple orchestra. Intriguingly, she often achieves intense focus on very concentrated pieces: there are some clarion high notes and magisterial blues gracing "Diplet," a piece that's less than a minute long. The sense of mystery grows on "Neptunian Love Song, " the longest piece at 5'09" and a remarkably sustained achievement in which the trombone multiphonics and distinctive human voice within the sound of the instrument develop a striking multiplicity of timbres. The CD is a worthy addition to the tradition of solo trombone, while the combination of unusual techniques and meditative tranquility also suggests affinities with Sylvia Hallett's White Fog (on Emanem) with its uncanny mix of bowed bicycle wheel and voice. Baker is a player with a vision, and it's consistently realized here.
–Stuart Broomer
Ariel Shibolet- soprano sax, Aurora Josephson- voice, Damon Smith- bass, Jen Baker- trombone, Scott Looney- piano
untitled (1959) is a collection of improvisations by some fantastic free improv individuals who came together in 2006 and made music together: Houston-based Damon Smith, San Francisco-based Scott Looney and Aurora Josephson, Israeli-based Ariel Shibolet, and New York-based Jen Baker.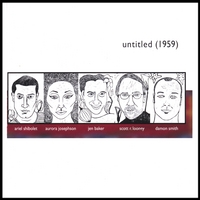 More Reviews of Blue Dreams

You can buy Blue Dreams here.

Devin Hurd and Bruce Gallanter review the album:
JEN BAKER - Blue Dreams: Trombone And Voice (Dilapidated Barns 01; USA) Solo trombone records used to be pretty rare when musicians like Paul Rutherford and George Lewis started doing them way back when. Today, they are much less rare but no less challenging. Ms. Baker has played here at DMG twice with vocalist Kyoko Kitamura and both sets were great. I wasn't very familiar with Jen before she played here but it turns out that she has recorded for Bay Area labels Rastascan and Balance Point Acoustics as well as the Israeli label Kadima. This disc is completely acoustic and Jen says that she has been influenced by Tuvan throat singing and Gregorian chant. I really love the sound of Jen's cosmic drone. The blend of the long tones from the trombone and her throat singing are quite mesmerizing. The two or three drone lines are not exactly the same and slide in and out of each other's way, making a strange chord that keeps shifting slowly. On each piece the tone or texture is somewhat different and it is altered slowly in varied ways. Jen uses her voice, humming and creating chords with the shifting sounds of the trombone. Time slows down as we hold on to and observe the way the different lines shift and change direction. The chords she makes involve certain melodies which seem universal in the way reach inside and touch us, the way some chants do. A few of these pieces are dark and mysterious and most effective at evoking scary spirits or ghosts. From calming daydreams to evocative nightmares, this disc is completely enchanting.

- Bruce Lee Gallanter, Downtown Music Gallery
--------------
With a tone composed of voice and trombone unified by a singular breath, Jen Baker explores a timbral interplay that transforms her instrument into an organic entity rich in musical and organic possibilities. Baker traverses a range that growls with humanity before taking more lyrical turns. At times hinting toward Tuvan throat singing, at other times developing its own internal counterpoint. Jen Baker sustains this recording with her improvisational ability and sense of rhythmic balance. Not to mention her impressive musical chops. This is an expressive and honest solo recording that exposes a refined and truly engaging and imaginative extended technique.

-Devin Hurd, http://hurdaudio.blogspot.com/2011/12/hurdaudio-rotation-balancing.html