Upon premiering solos Testify by Andrea La Rose and THS by Pat Muchmore in NYC and Sarah Lawrence College:
Baker (who traveled from San Francisco to perform) demonstrated an astonishing range of noise and technique with her instrument between this song and her solo performance in the next, 'testify' by Andrea La Rose. Both were testimonies to her incredible talent, regardless of how you may feel about the dissonant and irregular musical style. In 'testify', Baker vocalized moans, yelps and other guttural exclamations in between extremely adept tromboning, producing what might be compared to spoken word instrumentation, or a severe twist on scat (jazz singing with nonsense syllables). It could also be described as a trombone having an orgasm. -The Phoenix, Bronxville, NY
Upon premiering "A Spell" for Trombone, by Shigeru Kan-no:
Awesome performance! -Gold Branch Music, Inc.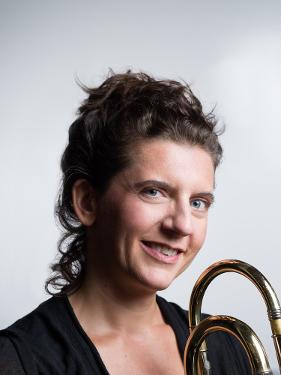 Bang on a Can Marathon The Asphalt Orchestra marching band performing at the Winter Garden of the World Financial Center on Sunday. Foreground: Jen Baker, Background L-R: Peter Hess, Nick Jenkins, Ron Wiltrout, Yuri Yamamoto, John Altieri.
By VIVIEN SCHWEITZER Published: June 24, 2011
Listeners at the Winter Garden of the World Financial Center had to jump out of the way as the Asphalt Orchestra, a brainchild of Bang on a Can, snaked its way through the large crowd at the annual Bang on a Can Marathon on Sunday. The orchestra, an ebullient, avant-garde marching band that blends performance art with inventive new works and funky arrangements, offered a version of Frank Zappa's "Zomby Woof" by Peter Hess (the group's tenor saxophonist); an arrangement of Bjork's "Hyper-Ballad" by Alan Ferber; and Goran Bregovic's exuberant "Champagne."
The Asphalt ensemble's freewheeling
aesthetic sums up Bang on a Can's
genre-bending 21st-century ethos, represented on Sunday by an eclectic smorgasbord of performances that 5,000 people took in, in whole or in part.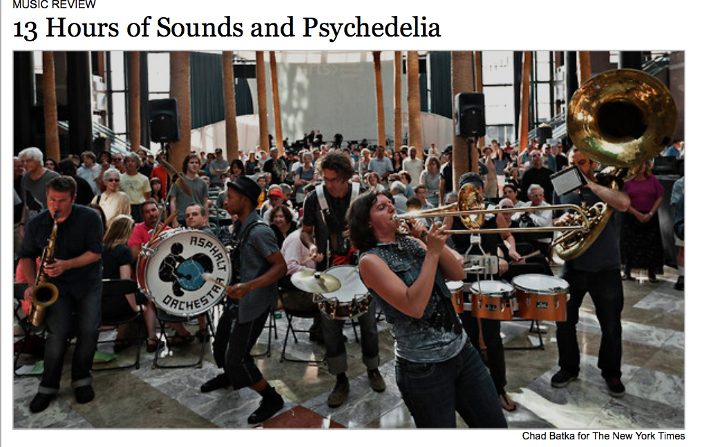 On part 1 of Teleport, from Asphalt Orchestra's Unpack the Elephant (evening length concert):
Teleport 1, composed by Jen Baker, brought an innovative use of stage presence. Baker, who plays the trombone, returns on stage solo with a rope wrapped around her waist. The red lighting heightened the suspense of her rope staying off the ground as it expanded every time she took a step forward. - Jacqueline Kalisch, author. https://sundial.csun.edu/55913/arts-entertainment/asphalt-orchestra-marches-to-their-own-beat-at-vpac/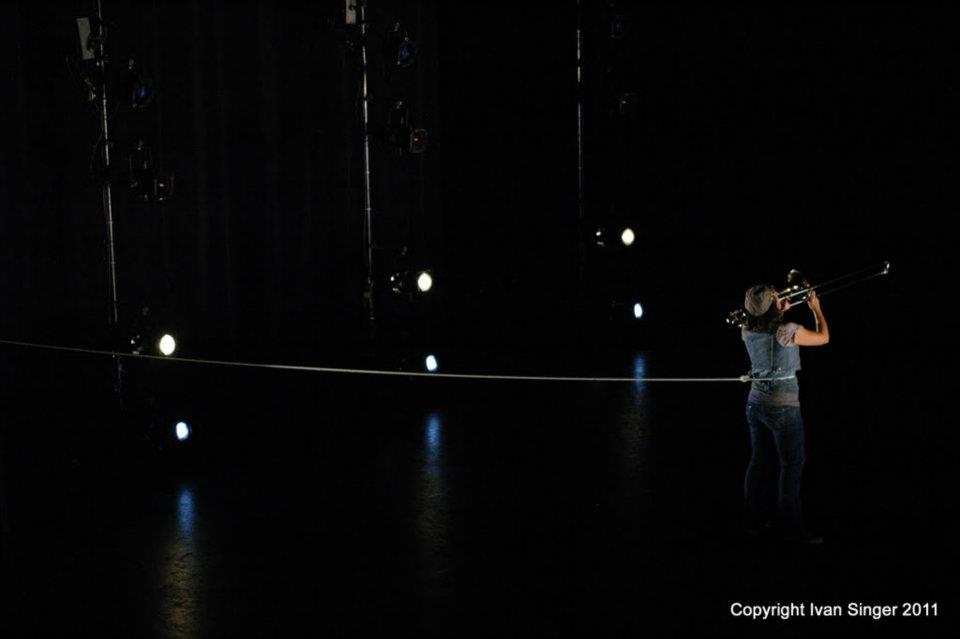 "This is one of those books that should be in every trombonist's library. Get yours soon." --Jim Pugh, Trombone Legend
"Hooked on Multiphonics fills a void in pedagogy and compositional idiosyncrasies by expounding on the subtleties of multiphonics and other complex extended techniques so they may be better understood and executed by future generations of trombonists and composers. Progressive instructions, exercises, and studies will help the performer develop a broader palette of sound. Detailed explanations of various multiphonic timbre and other extended techniques will aid composers seeking to understand the many facets of the trombone's potential. Jen Baker's indispensable guidebook to this strange and beautiful "alternate universe" has ignited in me, as both composer and player, a new curiosity and excitement about [the trombone] and its possibilities. —Jeremy Howard Beck, composer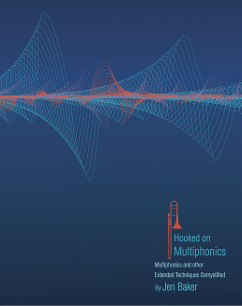 Solo Trombone: Albert Mangelsdorff, Conny Bauer, Jen Baker & Samuel Blaser
Jen Baker and Samuel Blaser, forward-thinking 30-something musicians, are keeping the tradition of "posaune solo" established by the likes of Mangelsdorff and Bauer going with new albums, both initial recorded forays into the discipline.

Baker's disc, Blue Dreams, is short and to the point, with 13 tracks of manageable length (less than a minute to a shade over five) totaling about 40 minutes. The West Coast-based Baker, who has worked with kindred spirits like Joëlle Léandre and Alvin Curran, improvised all but one of the tracks contained therein, what she refers to as "lyrical vibrations". Interestingly, she claims as her inspiration Tuvan throatsinging and Gregorian chant, a new way to think about what multiphonic playing is trying to accomplish. As such, these pieces are more ethereal, quite different from the tuneful explorations of Mangelsdorff and Bauer without veering too far in the Rutherford direction, structural sense being retained, particularly in the longer pieces. Blue Dreams manages to be both serene and disconcerting at the same time, Baker's expert multiphonic technique almost extraterrestrial at times.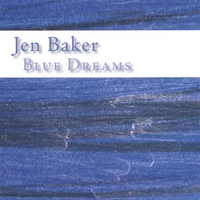 untitled (1959)
Damon Smith, Aurora Josephson, Jen Baker, Scott Looney, Ariel Shibolet, performers
Braying slurs from Baker are the initial defining factor of the title track, soon joined by the saxophonist's rolling tongue slaps. Double and triple tonguing to a multiphonic display, the trombonist eventually lets loosen with elongated and accumulated trills and tones, almost undifferentiated from Shibolet's reed bites. -JazzWord
"White Cloud" has a miniature perfectly conceived air about it. There's an awful lot going on in the less than two minutes of its duration, with vocalist Aurora Josephson and trombonist Jen Baker seemingly engaged in some kind of private, highly measured dialogue even in the midst of the other voices. In that respect their contribution might almost be a continuation of "White Band (Number 27)" where as a duo they engage in some form of reverence for near-silence. –All About Jazz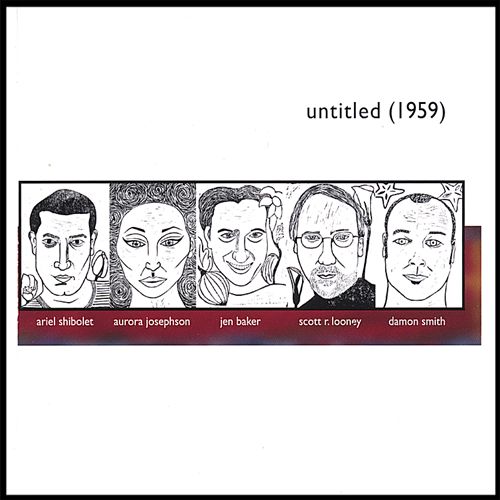 I actually got to meet Jen Baker at a concert series I worked in a Tai Chi school in Brookline Massachusetts. She is like a researcher into sonic potentials and voices Gregorian Chants through the horn bore while handling the embouchure issues.
"Trombonist Jen Baker was also a revelation, always ready to lend support in lower registers with terrifying swells and rumbles while also an absolutely lyrical soloist." –Dusted Reviews

With TILT Brass, performing spatialize scores by Lea Bertucci at Levy Gorvy museum. Pictured below: I'm performing in front of artwork- trombones are on the 2nd of 3 floors.
How to approach Bertucci's 16-minute composition was to some extent a matter of guesswork and reaction. Prior to the performance, a capacity crowd circulated throughout the building, sipping wine and admiring the artworks. In private conversation, Sroka explained that TILT's trumpeters would be stationed on the topmost floor, its trombonists one flight down, and the tuba players at or near street level. He also offered a bit of useful advice: the music would start with the trumpets, and gradually cascade downward. (To judge by the throng on the top floor when the players synchronized and started their smartphone timers, I wasn't the only one so advised.)The program note offered one more piece of practical advice:
The building's stairwells serve as an ideal sound mixer, and so we encourage you to move slowly between the floors and experience the exhibition with your most open ears. Each of you will hear the piece uniquely, observing silences, sudden swells, and subtle harmonic shadings in the sonic reflections of different corners and expanses.
True enough: on perceiving the trombones some two minutes into the piece, I headed to the stairwell – passing by Bertucci, tucked discreetly into a corner – as I made my way past fellow listeners down to the second floor, listening all the while to how the sounds from above and below echoed and contrasted. Footsteps and rustling clothes, too, formed a part of the aural soundscape; happily, nearly all present observed the gallery's request to refrain from conversation.
The sensation of gravity increasing as the robust trombones grew more assertive was uncanny, especially as the players – Jen Baker, Will Lang, and ensemble leader Christopher McIntyre – slid from low pitches to high ones, and played tones that rose and fell like pulses from a beacon. Perfect fifths assumed a roseate glow. Overhead, scattered trumpet notes twinkled like stars—or perhaps the more appropriate metaphor would be to view the trombones as the solid base of a Calder stabile, the trumpets as the smaller figures suspended above it.
Review: Ekmeles Performs Chamber Works Written for Voices and Brass Instrument
By
June 30, 2015
In the necrology for the year 1616, the names of Shakespeare and Cervantes stand out. The death of a young German girl that same year might have barely passed notice.
But when Anna Augusta, the daughter of Georg Friedrich, Margrave of Baden-Durlach, succumbed to illness shortly after her 12th birthday, the event gave rise to a remarkable elegy. After a long list of similes that liken life's transience to the brevity of a host of natural phenomena, the poet Georg Rudolf Weckherlin concluded with a quatrain that consists only of a cascade of nouns — dawn, dust, dew and others — that flash by like a life glimpsed in high-speed retrospective.
In Wolfgang Rihm's "Skoteinos," a setting of writings by Heraclitus for male voices and trombones, the relation between text and music was less obvious. Among the text fragments is Heraclitus's famous aphorism regarding the impossibility of stepping into the same river twice. Another composer might have responded by establishing some sort of recognizable music material and returning to it later, in altered form.
But Mr. Rihm's enigmatic piece is more ritual than exegesis. In introductory remarks, Ekmeles's director, Jeffrey Gavett, spoke of the "gnomic weirdness" of Heraclitus's thought, which delights in contradictory statements. Mr. Rihm's setting allows these to hang in the air, unresolved. The trombonists Jen Baker, Benjamin Herrington, William Lang and Christopher McIntyre brought formidable sensitivity to parts that were often painfully self-effacing; the singers, each armed with a percussion instrument, balanced powdery dissonant vocal lines with jarring percussive accents.