Jen Baker Trombonist•Improviser•Composer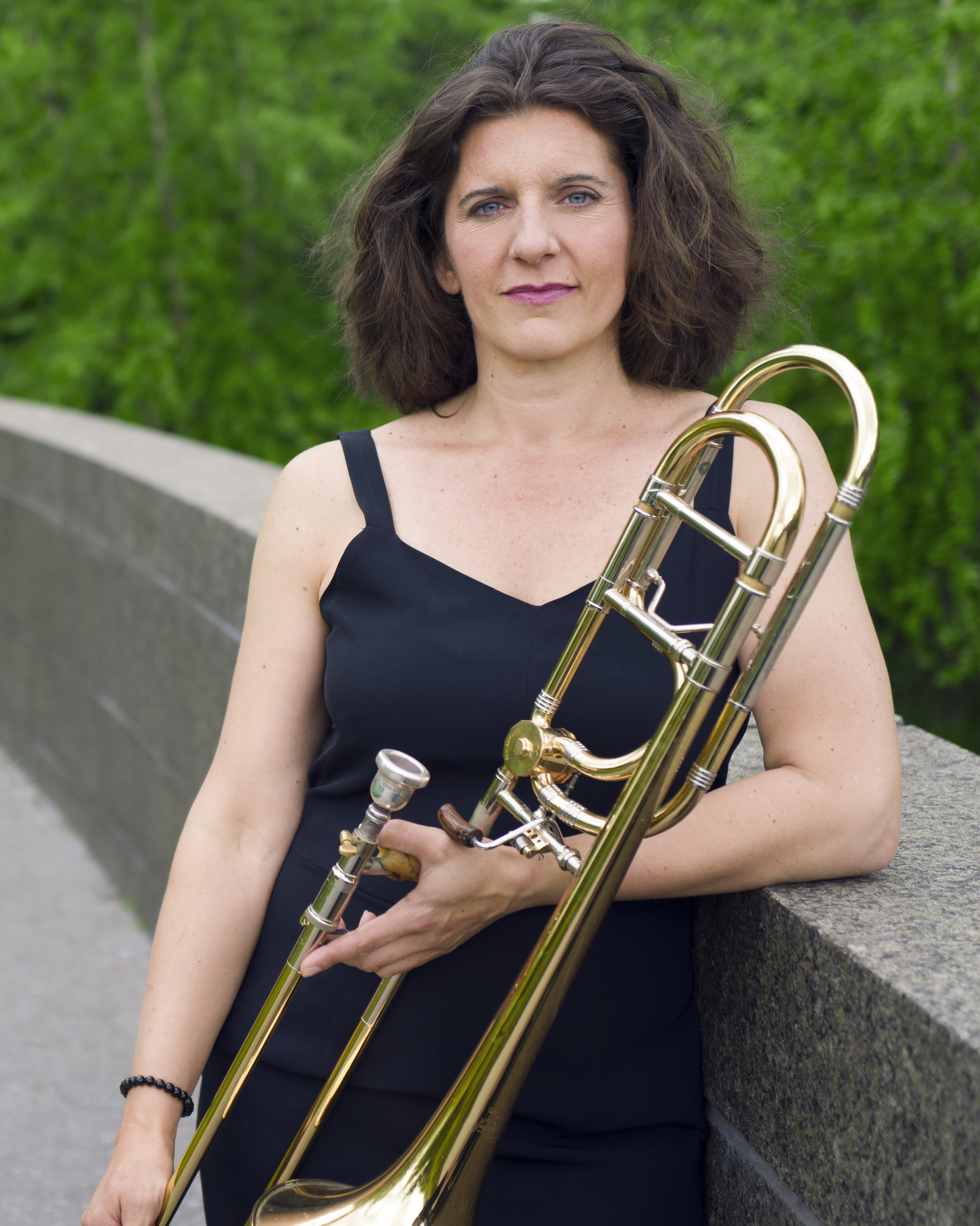 Jen Baker enlivens the spirit in you!
"astonishing range of noise and technique"- The Phoenix, Bronxville
Biography
Jen Baker, trombonist/composer has pioneered a widely diverse career based in redefining the role of trombone in contemporary music and traditional performance settings. Featured on the soundtrack to Werner Herzog's Oscar-nominated Encounters at the End of the World, many of her collaborations and/or compositions appear on record labels including New World, Innova, Image Entertainment, New Focus, Cantaloupe, Important Records, and her own label, Dilapidated Barns.
This season, Jen performs with Bang on a Can All Stars for the People's Commissioning Fund and their Long Play Festival. She also joins Argento, Wavefield, Sarah Weaver's chamber ensemble, Gelsey Bell, Fay Victor, and other notable improvisers, performed in Kings County Brass Quintet in the Relevant Tones Festival,and Anna Webber/Angela Morris Big Band. This season has also seen premieres of three solo pieces (flute, trumpet, violin), a brass quartet, and a trombone quartet. Later this Spring, Wavefield will also premiere her chamber work, Far From the Future.
Hailed for her "formidable sensitivity" (New York Times), she has "performed with brilliant mastery and virtuosity" (San Francisco Classical Voice) at festivals worldwide, as Guest Artist at International Trombone Festival, American Trombone Workshop, Complete Trombonist Workshop, Ostrava Days (Czech Republic), Edgefest, Electro-Acoustic Improvisation Summit, International Society of Improvised Music, and others. Other performance highlights include a world tour with Bananabag and Bodice Beowulf (a thousand years of baggage) and the final performances with the Merce Cunningham Dance Company at Park Ave Armory.
Her compositions have been performed nationwide, in part by commissions by members of Metropolis Ensemble, Mivos Quartet, The Fourth Wall, loadbang, Asphalt Orchestra, Wavefield, and with solo and collaborative projects as composer/performer. She was a featured soloist on Chicago's Experimental Sound Studio in their Quarantine Concert Series. Her Silo Songs, recently presented by Edgefest!, blends site-specific field recording (realized with 4+ surround speakers) with live performance soloist. New multiphonics pieces were recorded in a massive concrete grain silo - a naturally reverberant, cylindrical space, using bassoon reeds, harmonicas, incidental birds, and the silo itself. Her earlier solo album, Blue Dreams, is similarly based on vibration of multiphonics. She authored Hooked on Multiphonics: Multiphonics and other Extended Techniques Demystified, the first and only book that comprehensively deals with the technique of singing through the trombone, and has been internationally appreciated in composer and trombonist circles alike!
Currently, Jen Baker is fascinated with human consciousness and has incorporated aspects of it along with philosophies of sound healing in all her recent compositions.
Drone Piece Apparitions of the Four Pillars (Randy Gibson), 2015, exploring subtle microtonal harmonics of D,
sublime lighting by Kryssy Wright.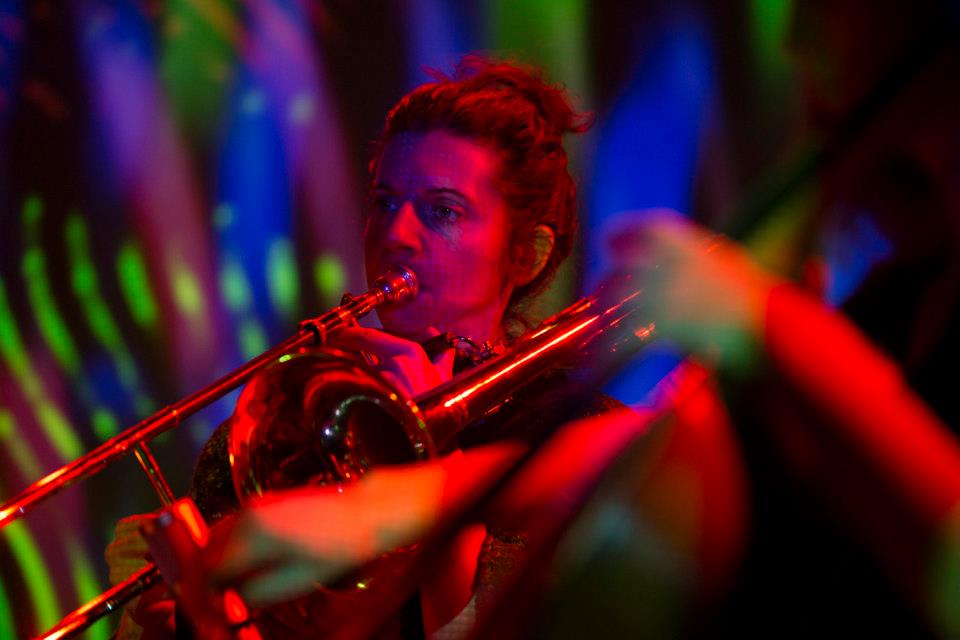 Music Garden II (by Chris Jonas), multiscreen video and live performance at Center for Contemporary Arts, Santa Fe, 2012.
TILT: Chris Dimeglio, Jen Baker Chris McIntyre, Chris Jonas.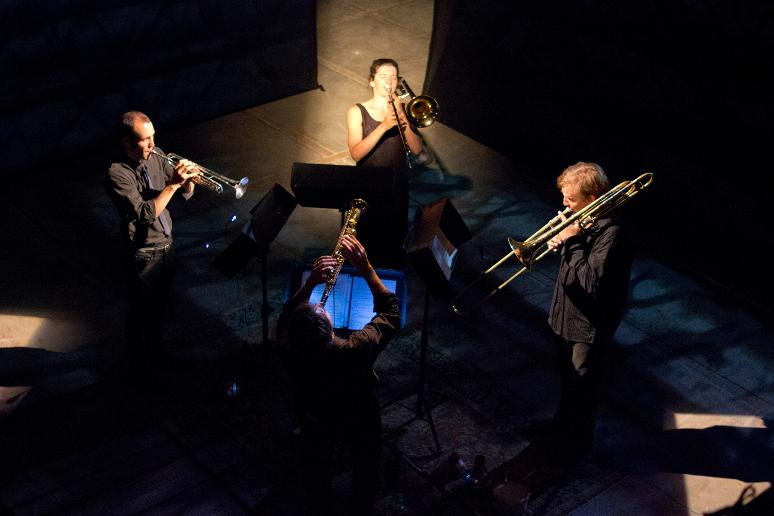 The Universe is Pulling Apart, 2018 in collaboration with Anne Hege, with support from the MAMA Residency 2018.
Anne Hege, homemade tape machine, voice, movement
Jen Baker, quad speaker playback from silo field recordings, trombone, voice, movement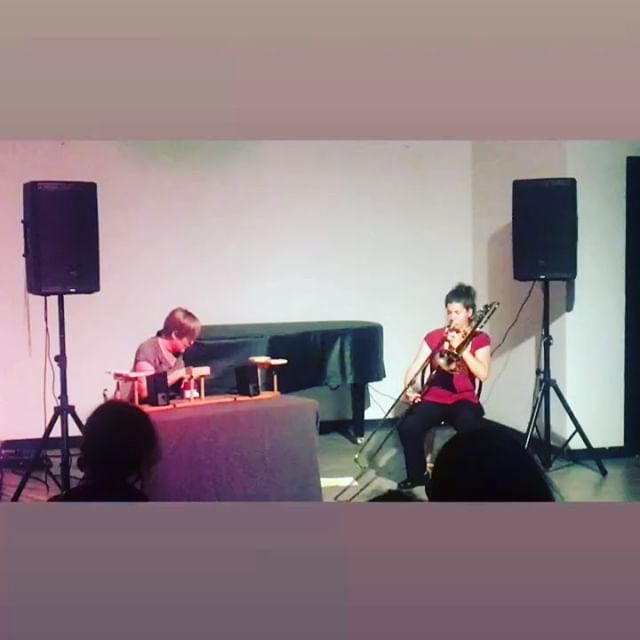 Performing self-composed Teleport during Unpack the Elephant, Asphalt Orchestra's evening length theatre music work.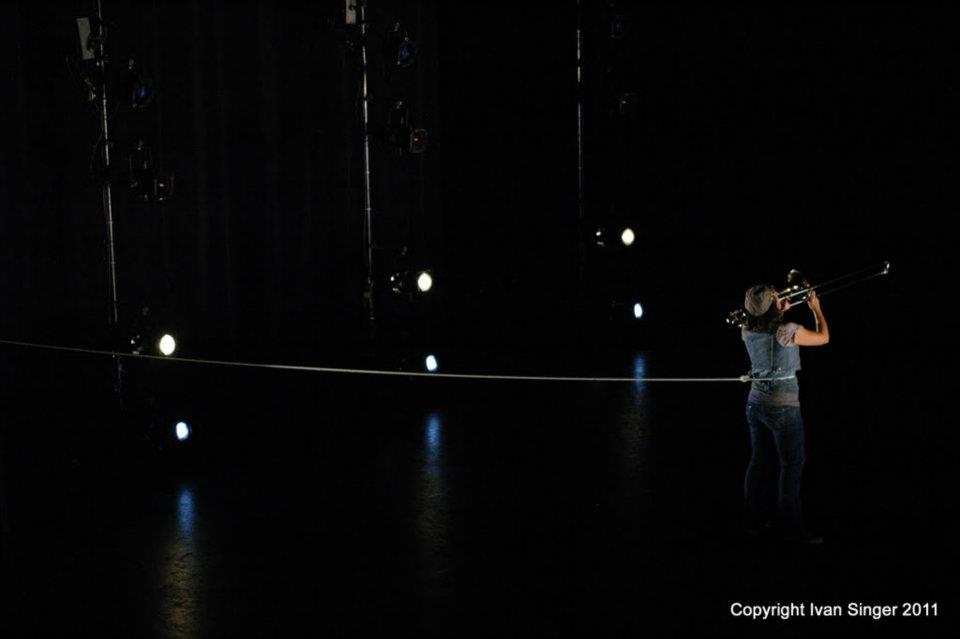 First Nations' Ley, in collaboration with instrument-maker David Samas, Meridian Art Gallery, San Francisco, 2014. Multi-movement work exploring found instruments, skin drum, multiphonics, time, and space.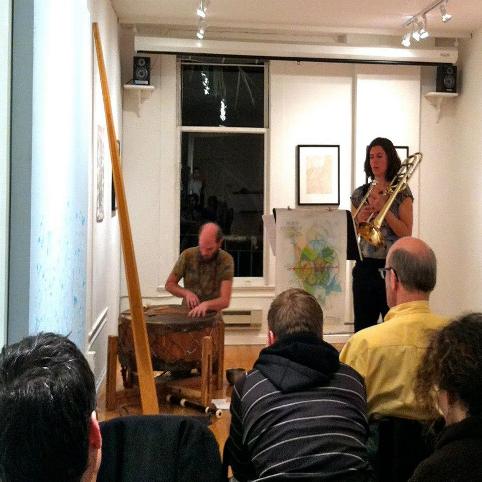 Performing my Gamelan Piece with trombone and didgeridoo, Son of Lion Gamelan Performing (pictured: Daniel Goode, Skip La Plante).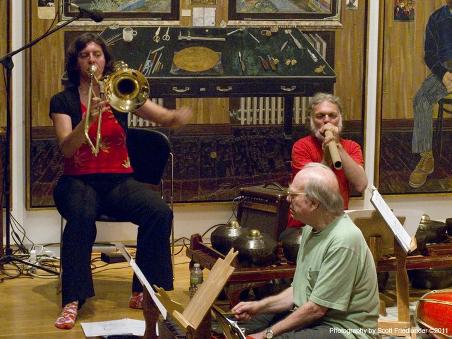 Improvisations:
Aram Shelton, Les Hutchins, Damon Smith, Jen Baker, Oakland art space
Patrick Crossland, Jen Baker, Red Room, Baltimore.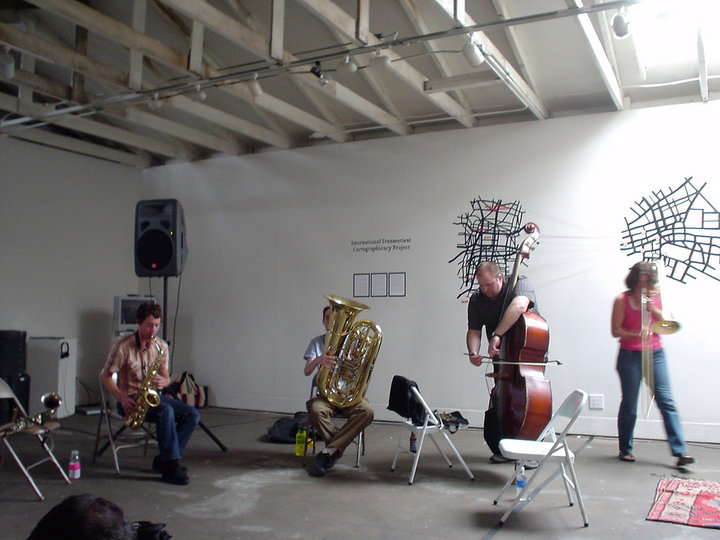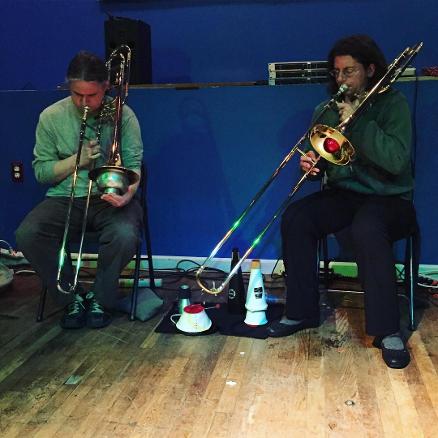 Break time with Fred Frith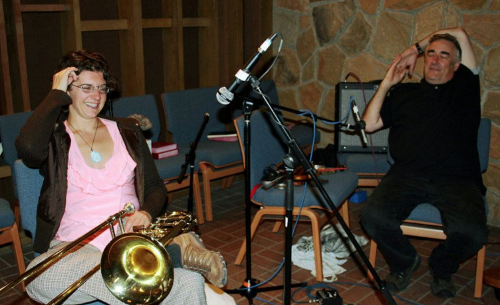 With Varispeed, performing Perfect Lives by Robert Ashley.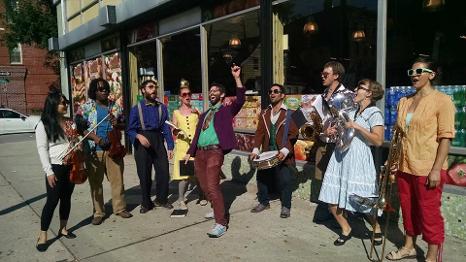 Asphalt Orchestra at Bang on a Can Marathon, 2014.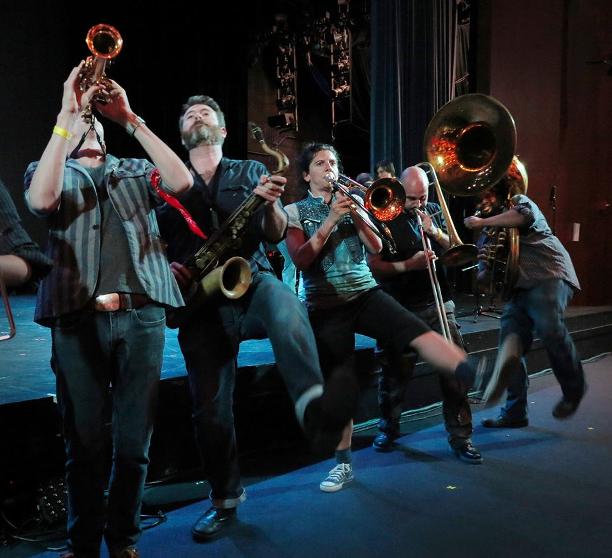 Fables of Global Warming (Karole Armitage) 2013.
Margaret Lancaster, Corey Dargel, Jen Baker, Armitage Gone! Dance Company.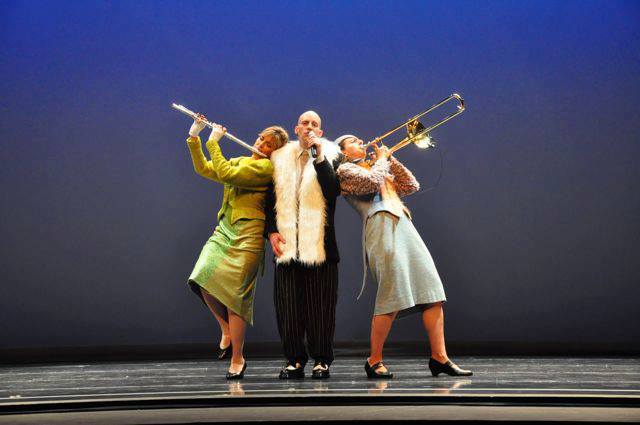 Site Specific performance at Madison Square Park with Steve Petronio Dance Company and musicians,
performing alongside the artwork Fata Morgana by Teresita Fernández, 2015.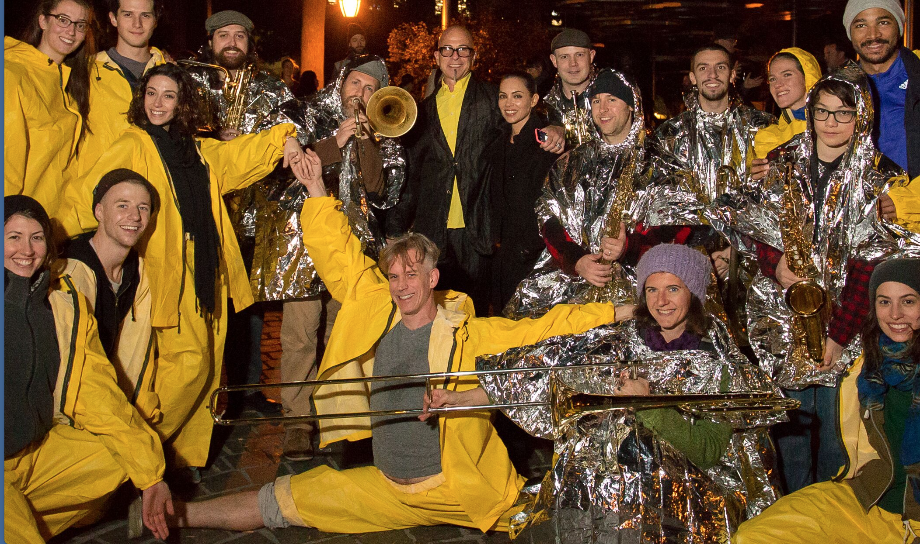 Jen Baker, Brooklyn, New York | 510-847-1219