My Compositions:
5-500 (2015) for at least 5 players and up to 500 players
Deck Card Piece #1 (2015) Clip Mouth Unit
DNA (2012) for Two to Twelve trombones, preferably performed in ascending order in multiples of Two players. Next performance will be with Four players.
First Nations' Ley (2012) for Trombone, homemade instruments, voice, and/or laptop ensemble. Telematic or single location.
Ley of A Nation (2014) for Viola, Soprano Sax, Bassoon, and Trombone.
Mini Mikros (2014) for Bassoon, Trumpet, Trombone
Mikrokosmos Arrangement #4 (2015) - Mikro Trio
Neptunian Love Song (2010) Solo trombone
Pebbles (2014) for Tentet
Pink Elephant for Jen Baker and Kyoko Kitamura
Pipsqueak (2007) Solo trombone
Prickle for Jen Baker and Kyoko Kitamura
Silo Songs (2015) for 4 trombones (or multitrack recorded)
Solstice Drones (2012) Solo trombone
Teleport (2010) for Trombone and offstage "brass." Commissioned by Asphalt Orchestra.
Wilkes-Barre Cathedral (2010) Solo trombone
Other Commissions:
Near to Solitude (2015) Commissioned and Premiered by the Fourth Wall.
When a Drop of Light (2016) Commissioned by Loadbang for 2016.
Recordings with ensembles
Asphalt Orchestra
Pixies (Le Pouisson Rouge)
Frank Zappa (Theater Show - Unpack the Elephant)
Meshuggah (live on WNYC and video -I'm behind the giant mic)
Ivo Papasov (Bang on a Can Marathon)
Improvisation Solo (Lincoln Center)
TILT Brass - John King's Hammerbone (Dartmouth College)
Mikro Trio - Mikrokosmos Arr. #4
Brooklyn Infinity Orchestra
Clip Mouth Unit - Deck Card Piece #1 (Trans Pecos, Brooklyn)
with John Luther Adams' Sila (Lincoln Center; 10'15" for a close-up)
with Randy Gibson (Wild Project - Avant Media Festival)
with Varispeed (Jersey City - Con Vivo Festival)
with Guidonian Hand (WNYC)
Premieres by:
John King, David Behrman, Anthony Coleman, Zeena Parkins, Chris Jonas, Lainie Feffernan, Mario Diaz, Son Lux, Dave Douglas, Holly Herndon, Chris McIntire, Jay Vilnai (Bohu), Pat Muchmore (THS), Petr Kotik (Many Many Women), Anne Hege (Spirit in the Flesh), Elizabeth Adams (Alter Timbre), Izzy Chen, James Fei, Daniel Goode (Annbling), Lisa Hirsch, John Musto, Pauline Oliveros, Sarah Bernstein, Roscoe Mitchell, Dave Malloy, Anthony Coleman, Stephanie Griffin, Andrew Drury, Stefan Bauer, David Bindman, Sean Sonderegger;
Performed with:
Asphalt Orchestra, Tilt, SEM, Varispeed (Perfect Lives, Robert Ashley), Contemporaneous, Vox Brass Ensemble, Either/Or, Ensemble Moto Perpetuo, Flexible Orchestra, New York Trombone Consort, Brooklyn Infinity Orchestra, Mikro Trio, Polyverse Ensemble.
First Nations Ley
With David Samas, collaborators of First Nations Ley, at Meridian Art Gallery San Francisco, 2012.
Photos of the premiere performance, as well as improvisations at Meridian Art Gallery, San Francisco, 2012.
The yarn on the map below shows where the magnetic ley line, First Nations' Ley, occurs in North America. Ley lines, or geomagnetic lines, occur all throughout the world and are known by mystics, tribal people, and the ancient civilisations as power lines, powerful enough to transfer communications. We chose several locations along the ley line, typically known for their natural beauty and grandeur, to create a song about it.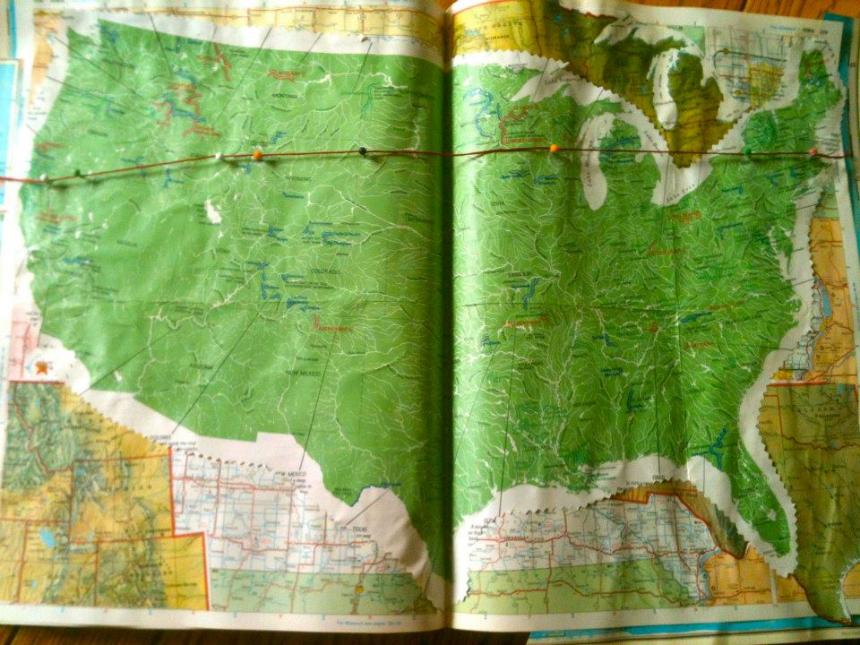 Telematic performance, March 2013. Stanford (where photo below was taken) and RPI in Albany, NY live on-screen.